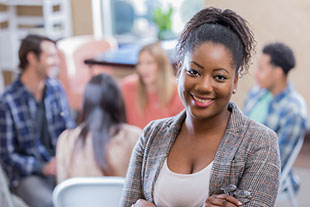 The University of Florida's 100% online Master of Science (M.S.) in Health Education and Behavior (HEB) prepares current and aspiring health sector professionals to successfully plan, implement, and evaluate health education and promotion in a variety of clinical and non-clinical settings.
The online health education master's program curriculum was developed around the eight areas of responsibility as defined by the National Commission for Health Education Credentialing (NCHEC), Inc., ensuring that students are equipped with the competencies and skills necessary to succeed as health education specialists. In addition to the core curriculum, students choose from a range of program-specific electives to suit their career goals.
By the end of the program, students will sit for the Certified Health Education Specialist (CHES®) Exam — and UF master's in health education and behavior graduates boast an exceptional pass rate thanks to our carefully crafted curriculum and expert faculty. Our M.S. in HEB faculty are heavily involved in the field of health education and promotion, and each of them is invested in students' careers and professional aspirations, often providing personalized guidance to help students meet their goals. They include registered dietitians and an Academy of Nutrition and Dietetics fellow with expertise in public health practice, private practice, nutrition education, and academic research.
This investment in our M.S. in HEB students also extends to the Registration Examination for Dietitians. Beginning January 1, 2024, the credentialing agency for the Academy of Nutrition and Dietetics will require those eligible for the Registration Examination for Dietitians to hold a master's degree. After this date, graduates of the M.S. in Health Education & Behavior interested in beginning a career as a registered dietitian will meet one of the eligibility requirements for the exam — holding a master's level degree.
By earning a M.S. in HEB online, students can complete the degree on their own time — in as few as three semesters or as long as it takes them — all while continuing to meet their professional and personal obligations.
Program Highlights
Benefits of UF's master's degree in health education and behavior include:
Study a Career-Focused Curriculum
Prepare for career advancement in the field of health education and promotion.
Prepare to Pass the CHES® Exam
Students are required to sit for the CHES® Exam during the program — ensuring they are ready to advance their careers as soon as they graduate.
82.6% CHES® Exam Pass Rate
During the 2022 exam cycles, 69 students/graduates took the CHES® exam. Of these test takers, 57 passed resulting in a 82.6% pass rate — 14.2% higher than the national average (68.4%).
Work One-on-One with Expert Faculty
Learn alongside experienced experts who are actively involved in the field of health education and behavior — and who want to help you reach your career goals.
Complete in Just One Year
The 30-credit HEB can be completed in as few as three semesters.
Take Your Classroom Anywhere
100% online courses are designed for working professionals, so you can earn your master's without putting your career on hold.
#1




Best Accredited Online Master's in Health Education Program by BestColleges.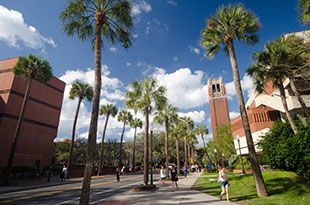 The mission of the University of Florida, founded more than 160 years ago, is to enable its students to lead and influence the next generation for economic, cultural, and societal benefit. The university is committed to serving the state of Florida, the nation, and the world by pursuing, creating, and disseminating new knowledge while building upon the experiences of the past. With our land, sea, and space grants, we have been entrusted with the responsibilities of education, research, scholarship, and service.
University of Florida Awards and Rankings
U.S. News & World Report
#5 Top Public Universities
#9 National Universities
#12 Best Colleges for Veterans
#52 Most Innovative Schools
#2 Best Online Graduate Education Programs
Washington Monthly
#15 National Universities
University Value Rankings
#2 Best Values in Public Colleges–Kiplinger's
#2 Best Buy Colleges: Public–Fiske Guide to Colleges
#16 Best Colleges for Your Money, Money