What Can You Do With a Master's in Health Education?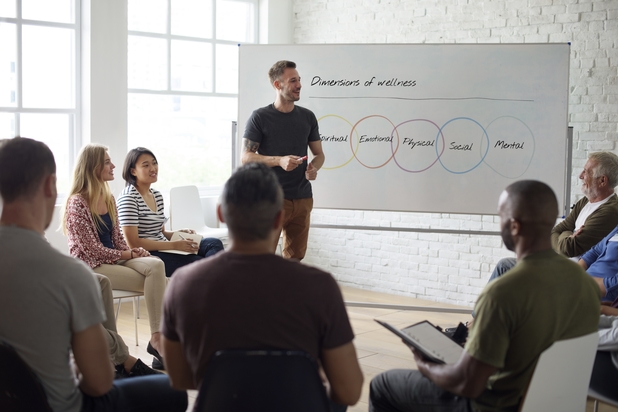 Health education careers can take many directions, from advising hospital patients on managing their chronic illnesses to offering support along the path of recovery from addiction. Whatever their professional interests, health education specialists have one thing in common: a passion to help others help themselves. Working in this field gives you the chance to improve the lives of individuals, families and even entire communities by showing people how to take a more active role in their own well-being.
Health education specialists discover opportunities in a variety of public health settings, as well as clinical, community, nonprofit and business environments. This article will explore how you can put a master's in health education to work.
---
Why Seek a Master's in Health Education?
Many students who pursue a graduate degree in health education are recent graduates from bachelor's programs who want to deepen their knowledge of the latest research and best practices in the field. However, seasoned professionals from a variety of backgrounds — such as teachers, hospital executives, dietitians, psychologists and marketers — may also benefit from earning a graduate degree in health education.
A health education curriculum helps students:
Develop specialized knowledge about a variety of health issues.
Deepen their understanding of health disparities and socio-ecological factors affecting the health of individuals, families and communities.
Explore strategies for communicating preventative health information to diverse audiences.
Conduct research and perform evaluations.
Promote and advocate for healthier lifestyles and health education.
Prepare for the Certified Health Education Specialist (CHES®) Exam. Many organizations require prospective employees to complete CHES® certification by meeting academic preparation requirements and taking this national exam.
Meet the requirement from the Commission on Dietetic Registration to earn a graduate degree before taking the registration examination for dietitians. This requirement goes into effect on January 1, 2024.
Gain a valuable credential and skills as an educational leader that could increase their earning potential.
---
Jobs for Master's in Health Education Graduates
The health education field offers a strong job outlook. In 2019, there were 62,200 health education specialists in the U.S., and the Bureau of Labor Statistics (BLS) projects 11% growth through 2029, much faster than the average of 3.7% for all other occupations. BLS attributes that rapid growth to education initiatives that strive to improve patient outcomes and reduce costs by providing information about healthy behaviors and health care services.
Graduates from health education master's programs find roles in a variety of settings. You may pursue a health education career in:
Public health agencies, including the Centers for Disease Control and Prevention
Hospitals and health systems as well as medical offices, physical therapy offices and occupational therapy clinics
Community organizations and nonprofits, such as the YMCA and community clinics
School health, including colleges and universities
Corporate offices that encourage stress management and sponsor wellness programs for employees
BLS reported that almost a quarter of health education specialists work for government agencies at the federal, state or local level. The other leading employers include hospitals, service providers for individuals or families, and religious, grantmaking or civic organizations. Florida is one of the top three states with the highest employment levels for health educators along with California and New York.
---
Master's in Health Education Careers
Jobs with a master's in health education provide opportunities to make a lasting impact in people's lives while building a rewarding career. BLS reported that the median salary for health education specialists nationwide was $55,220 as of May 2019.
Salaries rise with experience, education and expertise. While many health education positions are open to those with a bachelor's, graduates with a master's degree may be more likely to reach the higher end of the salary range. An analysis of job listing data from Burning Glass showed that positions seeking health educators with a master's offered an average salary more than 20% higher than those offered to professionals with only a bachelor's degree.
Below, you'll find health educator job descriptions and salary projections according to data from BLS and PayScale:
| Job Title | Median Salary |
| --- | --- |
| Wellness Consultant | $57,000 |
| Lactation Consultant | $57,000 |
| Health Program Coordinator | $56,000 |
| Health Educator | $55,220 |
| College/University Instructor | $50,000 |
| Grant Writer | $49,000 |
| Addiction Counselor | $46,240 |
| Health Promotion Specialist | $43,000 |
| Prevention/Intervention Specialist | $38,000 |
Sources: Payscale, U.S. Bureau of Labor Statistics
Health Education Specialist
Health education specialists work in health departments, hospitals, wellness centers, clinics, schools and other settings where they teach patients and their families about health topics and encourage positive behavioral changes. Educators often keep in touch with patients and coordinate with clinical professionals in order to offer support and document progress.
College/University Instructor
An instructor in health education prepares tomorrow's health care professionals to offer valuable information for individuals and communities. These educators provide insights into the concepts and practical strategies that can make the difference in their students' ability to help patients adhere to their treatments, discuss women's and other demographic-specific health issues, promote effective public health measures and more.
Alcohol and Drug Addiction Counselor
Alcohol and drug addiction counselors work with patients and their families to guide them through recovery. A counselor helps devise a program for the patient to work toward a healthier and more productive life. In addition, the counselor manages cases and acts as a liaison between the patient and their health care provider. This is a position that demands skills in communication and problem solving as well as patience.
Grant Writer
Grant writers help nonprofits or government agencies apply for funding. These writers are skilled in research, communication and organization. They're tasked with describing the mission of the organization they work for and outlining how funding would be used. They may also be responsible for tracking the use of those funds and the impact on the organization.
Wellness Consultant
A wellness consultant may help corporations devise programs that improve employee health or work with clients directly at a gym, spa or wellness-centered health care office. Consultants collect information through interviews or surveys so they can tailor plans for patients' individual needs.
Prevention/Intervention Specialist
These specialists work in areas such as suicide prevention, drug/alcohol/tobacco rehabilitation and intervention, recovery services, disease prevention and on-the-job accident prevention. They may work in hospitals and clinics, businesses or communities with high-risk populations.
Health Program Coordinator
A health program coordinator may be employed in an assisted living facility, hospital, public health agency or hospital. They operate programs that offer patients information and support. Whether these specialists design smoking cessation programs or lead wellness initiatives for older adults, the goal is to help patients develop knowledge and strategies they can use to lead healthier lives.
Lactation Consultant
A lactation consultant gives lessons on breastfeeding and addresses common challenges. These professionals can also educate new parents about different types of breast pumps and how to transition back to work while breastfeeding. Consultants often work one-on-one within a health care or private setting while also leading classes and support groups. Some positions may require an additional specialized certification.
Health Promotion Specialist
A health promotion specialist provides information about issues in public health and encourages healthy living. Educators in this role counsel groups or work with individuals to discuss health challenges. Promotion specialists may also be responsible for drafting helpful literature or meeting with public officials to devise campaigns that address health challenges within their communities.
---
How Can I Start Working Toward a Health Education Career?
To spread valuable, accurate information about well-being, first you must build your own expertise and learn the best ways of communicating with diverse audiences. You can prepare to excel in health education jobs by expanding and updating your knowledge of topics that fit the needs of patients as well as your professional interests. Some key areas to explore as you take the next steps on this career path include:
Health education program planning and evaluation
Principles of effective teaching and learning
Promoting healthier lifestyles in the workplace
Theories of emotion and their implications for behavioral changes
Biological, psychological and social causes of obesity
Current issues and advocacy in women's health
Becoming comfortable with frank discussions of sexuality
Medical and social concerns in managing HIV/AIDS
Epidemiological risk factors and public health decision making
Becoming a Certified Health Education Specialist could be a crucial step toward starting or advancing your career. You can earn this credential by completing a degree in health education and taking the CHES exam administered by the National Commission for Health Education Credentialing. The NCHEC builds its exam around eight areas of responsibility:
Assessment of Needs and Capacity
Planning
Implementation
Evaluation and Research
Advocacy
Communication
Leadership and Management
Ethics and Professionalism
The online Master of Science in Health Education and Behavior from the University of Florida program focuses on the same topics, preparing students for certification and their careers. Health educators apply their knowledge and skills to change lives and drive better outcomes for whole populations. A master's program in this quickly growing field can equip students with the expertise they need not only to improve their own professional outlooks, but promote well-being for countless others.
---
About the Online Master of Science in Health Education & Behavior From the University of Florida
The University of Florida's online Master of Science in Health Education and Behavior (HEB) was designed by highly regarded health educators to prepare students for careers in clinical and non-clinical settings. Developed around the areas of responsibility laid out by the National Commission for Health Education Credentialing, the curriculum builds the knowledge that professionals need to plan, implement and evaluate programs for health education and promotion. The UF Master of Science in Health Education and Behavior program requires that all students sit for the Certified Health Education Specialist (CHES®) Exam so they graduate with the credentials they need to make a difference.

---
Request Brochure
To learn more about the University of Florida's online Master of Science in Health Education and Behavior and download a free brochure, fill out the fields below. You can also call (888) 533-6944 to speak to an enrollment advisor.